Two major groups of animals inhabit coral reefs: animals with backbones (called vertebrates) and those without these structures (called invertebrates).
Among vertebrate animals, only a relative few groups contain species that are commonly considered part of coral reef communities. These are introduced below.
Several other types of vertebrates (e.g., dolphins, porpoises, sea birds) are occasionally seen hunting or feeding in waters around coral reefs, but these are occasional visitors that spend most of their life cycles in other habitat types.
Fishes
Of the several types of vertebrate animals commonly found on coral reefs, fishes are the only group normally present in great abundance and diversity.
Hundreds or even thousands of different fish species may be found in some of the larger reef ecosystems.
These colorful coral reef animals are abundant in all three major reef zones, from the lagoon shoreline to the deepest reaches of the fore reef. Reef fishes play a number of key ecological roles in the coral reef biome, from herbivores to predators, scavengers, and "cleaners" of parasites from one another.
For more information on this fascinating and varied group of coral reef animals, visit our web page on coral reef fishes.
Sea Snakes
There are between 55-65 recognized species of sea snakes, but of these only a relative few are commonly found in coral reef areas.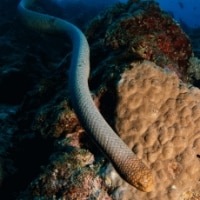 Sea snakes have evolved from terrestrial snakes, and like all reptiles are air breathers. Specialized adaptations for aquatic life include paddle-like tails and laterally compressed bodies, both of which enhance swimming ability.
Sea snakes are found only in the Indo-Pacific region (excluding the Red Sea). Many species are highly venomous, and should never be closely approached or threatened by coral reef divers or snorkelers.
Sea Turtles
Of the seven recognized species of sea turtles, three are regular or occasional visitors to coral reefs in some parts of the world.
On both Indo-Pacific and Caribbean reefs, the species most often seen resting on the reef proper is the Hawksbill turtle Eretmochelys imbricata, a species that also feeds in the lagoon or back reef zone of coral reef ecosystems. Hawksbill turtles have been heavily overexploited for their meat and shells, and are listed by the IUCN as "critically endangered".
The green sea turtle (Chelonia mydas) also frequents coral reef ecosystems of both the Greater Caribbean and Indo-Pacific regions. This species feeds primarily on the seagrasses found in protected back reef lagoons. The green sea turtle is considered endangered.
The flatback turtle (Natator depressusis) spends much of its time in the open sea, and is only seen in coral reef areas in a few parts of the Indo-Pacific region; most notably coastal waters of Indonesia, northern Australia, and Papua New Guinea. Flatback turtles are a threatened species.
Sea turtle research and conservation efforts are underway around the world to try to stem the declines of the once large populations of these beautiful animals.
Dugongs and Manatees
Dugongs (Indo-Pacific) and manatees (Caribbean) were once plentiful in coral reef lagoons.
These peaceful giants - related to elephants - consume prodigious quantities of seagrasses, and were presumably the most prolifc herbivores in coral reef lagoons prior to recent levels of human interference with these ecosystems.
Dugongs and manatees have been traditionally hunted by native peoples for food for many centuries with minimal apparent effects on their populations.
Over the last two or three centuries however, far more extensive hunting, habitat loss, entanglement in fish nets, and coastal pollution have contributed to the rapid decimation of these animals. Now threatened with extinction, conservation efforts continue but thus far have seen little success.
Common Invertebrate Reef Animals
Among coral reef animals, invertebrates are by far the most diverse and numerous. They are the primary builders of coral reefs and an integral part of many aspects of the ecology of coral reef ecosystems.
Invertebrate animals occur in all coral reef zones and habitats, and are instrumental in the movement and cycling of nutrients through the ecosystem. Many of these animals live in coral reef sediments, and engage in activities such as burrowing or tunneling that shape the very nature of these environments.
Some invertebrate animals (parasites) infest the bodies of other invertebrates and fishes, while others are vectors for disease. Still others serve a cleaning function, removing parasites and damaged tissue from other types of reef life.
Even a summary treatment of what is currently known about the amazing variety of form, life histories, behavior, and ecology of invertebrate animals living in coral reef habitats would fill many volumes, and a great deal remains to be learned in this area.
The most readily apparent (to human visitors) and ubiquitous groups of invertebrate coral reef animals are briefly introduced below.
We have devoted separate pages of our web site to more in-depth discussions of each of these groups of invertebrate coral reef inhabitants. These pages may be accessed through the group title links provided in each box (above).