On coral reefs (in contrast to familiar terrestrial ecosystems) plants are NOT the only group of organisms to play a major role in primary production (the creation of "new" biomass).
Instead, within coral reef ecosystems two other (and very different) types of life forms also play critical roles in providing the food that supports the rest of the biological community.
These two groups are (1) Cyanobacteria, and (2) marine "algae" - a diverse assortment of living things within the Kingdom Protista.
Coral reef "autotrophs" (organisms that can synthesize new "food" from simple, non-living precursors) are therefore represented by 3 groups:
Marine Plants
Marine Algae
Cyanobacteria
Below, we provide an introduction to each.
Types of Coral Reef Plants
There are two different types of plants widely associated with coral reef ecosystems: mangroves, and seagrasses.
Mangroves
Mangroves are a unique group of large shrub-like plants that grow in thick, physically complex "forests" that line many tropical and sub-tropical shores.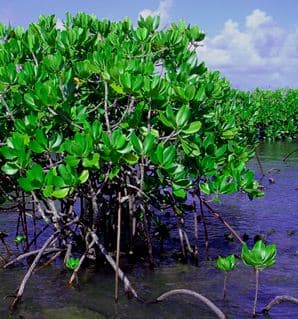 One of the rare terrestrial plants able to tolerate direct immersion in sea water, they have adapted to saline conditions where other plant life cannot survive by means of salt-filtering roots and salt-excreting leaves.
These specialized adaptations enable this group of plants to play a key role in creating land from the sea. Sediment mounds accumulated by seagrass meadows within the back reef zone may eventually form sufficient substrate for initial mangrove colonization.
Once established in this manner, these hardy pioneers grow and propagate rapidly, increasingly adding to the accumulation of ever greater amounts of sediments. In this capacity, these coral reef plants are instrumental in the building of new shorelines and small islands within coral reef lagoons and other protected inshore waters.
Mangroves have the capacity to contribute a good deal to ecosystem productivity and biological diversity by providing food and shelter for a variety of other forms of coral reef plant and animal life.
Seagrasses
Seagrasses are a type of marine plant most often found in shallow, sheltered marine or estuarine waters. They are the only type of angiosperm (flowering plant) to successfully colonize the sea.
Seagrasses are important components of many coral reef ecosystems, playing a number of key ecological roles.
Because they are fast growing plants capable of high production rates, seagrasses are one of only two types of coral reef plants capable of making a substantial contribution to the new biomass added to reef systems.
Much of the new biomass produced by seagrasses enters the detrital chain within these ecosystems, but some is consumed directly. Some of the most largest and important marine vertebrates such as parrotfishes, sea turtles, manatees, and dugongs feed directly on seagrass blades.
By trapping suspended sediments and slowing water movement, seagrass meadows also benefit nearby coral reefs by reducing sediment loads in the water. Seagrass meadows are also known to provide extensive critical nursery grounds for many types of reef fishes, along with conch, spiny lobster and other commercially valuable species.
As with mangroves, the distribution of seagrasses is restricted to the protected waters of the coral reef lagoon. Here, they form a highly distinctive and productive habitat-type that supports a broad diversity of other forms of animal and plant life.
Coral Reef Algae
The plant-like organisms collectively referred to as "algae" are NO LONGER classified as plants (members of the Kingdom Plantae) by modern biologists.
While it is true that all plants and algae are photosynthetic autotrophs, research has clearly shown that at the molecular and cellular levels (as well as in other ways) these two groups are as different from one another as they are from animals or mushrooms.
The "algae" (not a formal classification) are now considered members of the Kingdom Protista - a vast division of life that also includes such diverse critters as amoebas, slime molds, and many kinds of marine life (e.g., diatoms, dinoflagellates, etc.).
NOTE: It is only a recent finding that the organisms we call "algae" are NOT closely related to true plants as was previously believed. However, many articles still "lump" algae in with the plants, so don't get confused - these sources simply have not yet caught up with recent research findings.
Algae have neither roots, stems, or true leaves, although some of the larger, multicellular forms have developed analogous structures that serve some of the same functions. Marine algae are common in all portions of the marine environment sufficiently shallow to permit photosynthesis.
A variety of forms of marine algae are always present in coral reef ecosystems; in fact, a few types are essential to the survival of corals and the formation of coral reefs.
Algae that are permanent members of the coral reef community are benthic (living attached to or within the substrate). Some forms are macroscopic (visible to the naked eye), while others are microscopic (discernible to humans only with magnification).
Microscopic Reef Algae
Most of the biomass of coral reef algae are microscopic forms (microalgae). The best known of these tiny autotrophs are the symbiotic zooxanthellae that dwell within the tissues of reef building coral animals.
Free living microscopic algal forms growing on reef substrates are also abundant and widely distributed throughout the ecosystem. Among the most prominent of such microscopic algae are the pennate diatoms and free-living dinoflagellates.
These autotrophs are often dominant members of protist assemblages covering the surfaces of seagrass leaves, sand plains, and sand patches between reefs.
Inconspicuous as these tiny algae forms may be, their high productivity and sheer biomass ensure that they provide much of the primary production that occurs within coral reef ecosystems.
Macroscopic Reef Algae (Seaweeds)
Macroscopic (visible to the naked eye) forms of algae also are common and widely distributed within coral reef ecosystems. These large multicellular types of algae are commonly called "seaweeds".
Seaweeds are classified into three main types based on color: green, brown, and red. Each contains photosynthetic pigments specialized to best utilize sunlight at different depths.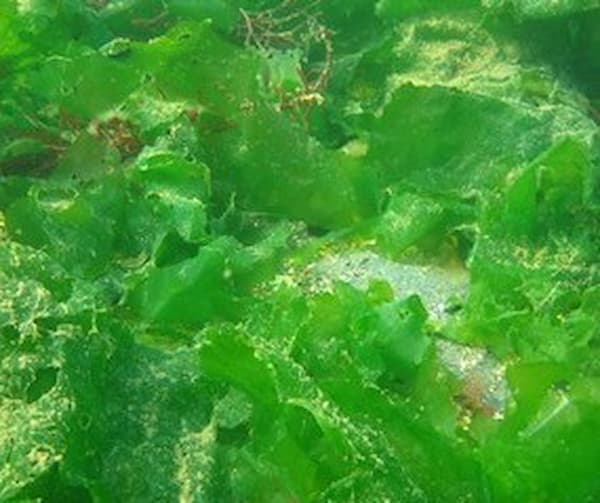 Green algae (Chlorophyta) are most common in shallow reef areas, and can be found on rocky reef surfaces as well as on unconsolidated (sand) substrates. Among the more abundant types are members of the genera Ulva ("sea lettuce") and Caulerpa (sea grapes).
Another notable group of green algae found on coral reefs are species within the genus Halimeda, which have the unusual ability to incorporate calcium carbonate into their tissues and thereby add to sediment formation in the reef ecosystem.
Red algae (Rhodophyta) may be found from the shallowest reef flats to depths exceeding 100 ft. on the fore reef.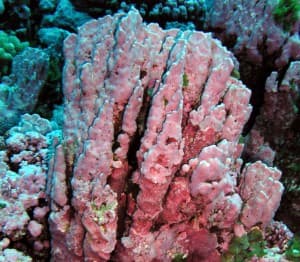 While there are several types of red algae to be found, the most common by far are the so-called coralline algae.
Like the corals themselves, these algae manufacture calcium carbonate and are a major player in the process of coral reef formation.
Other, fleshy forms of red algae are common to deeper waters of the reef ecosystem.
Brown algae (Phaeophyta) are not uncommon on coral reefs but not so abundant as green or red types. On some reefs - like Australia's Great Barrier Reef - a few types of brown algae like Sargassum spp. can seasonally become quite common in shallow areas.
Cyanobacteria: Photosynthetic Bacteria
One group of bacteria - the Cyanobacteria - can also play a major role in primary production on coral reefs.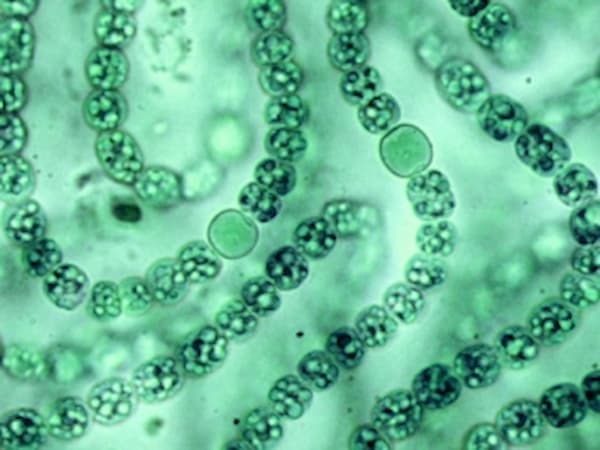 These relatively simple unicellular life forms are also commonly called "blue-green algae", but this name is misleading as it does not bespeak of any close relationship between these prokaryotes and all the eukaryotes (discussed above) that we called "algae".
Cyanobacteria are aquatic and photosynthetic, and occur in a wide variety of benthic habitats within coral reef ecosystems. They grow on reef surfaces, plant and algal surfaces, and even on the sand grains between reefs.
Cyanobacteria play a number of key ecological roles in coral reef ecosystems. In addition to their role as autotrophs, Cyanobacteria help build the reef structure, fix nitrogen, serve as a food source for other reef species, and are (some species) agents of coral disease.
The full magnitude and nature and of the importance of Cyanobacteria to coral reef ecology is only beginning to be unraveled, but it is clear that these tiny creatures are a major piece of the puzzle that we face in understanding and addressing human impacts on coral reefs.
Summary
Biomass production in coral reef ecosystems is not solely dominated by members of the Kingdom Plantae, as is the case with most terrestrial ecosystems. Instead, production by coral reef plants is often exceeded by the efforts of other photosynthetic organisms, including a variety of marine algae and Cyanobacteria.
It is only within the shallow, sheltered lagoon do we find two kinds of obvious plant-dominated habitats (mangrove forests and seagrass meadows) of the size and extent that we associate with those that characterize most terrestrial ecosystems.
Revised December 2012