Coral reef biomes occur in all the worlds oceans that have tropical portions.
Although they account for only a tiny fraction of the total ocean surface area, coral reefs are nonetheless home to nearly 25% of all known marine species.
The physical environment of the coral reef biome is shaped both by its animals and plants, as well as a host of abiotic ("physical") factors.
This complex marine environment consists of a mosaic of different types of inshore marine habitats, each of which supports a somewhat distinctive assemblages of marine life.
WHAT IS A "BIOME"?
A Biome is a major biological community-type occurring within one of the Earth's main climate zones (e.g., "tropical", "temperate", "boreal" etc.). Biomes are classified according to the dominant and distinctive types of organisms found in each.
Zonation Structure Of The Coral Reef Biome
Coral reefs are the most structurally complex of all marine biomes. They extend from the shorelines of tropical islands and coasts to the deep blue waters of the open sea (see below).
The overall structure of the coral reef biome is therefore best understood by thinking of the entire system as consisting of a series of zones, each of which has distinctive physical and ecological characteristics. These major reef zones can be therefore be regarded as the basic building blocks or components of the coral reef biome.
Coral reef zonation occurs in a characteristic pattern, with the different zones roughly paralleling the shoreline and one another. There are numerous ways to classify the zonation patterns typical of the coral reef biome, but perhaps the simplest and most practical scheme recognizes three primary, easily recognizable kinds of areas found in most coral reefs.
These are (going from shoreward to seaward) the:
The nature and extent of each of these different zones result from interactions between many factors, including sea floor depth profile, water movement, light penetration, and other factors that affect hard coral species distribution and abundance.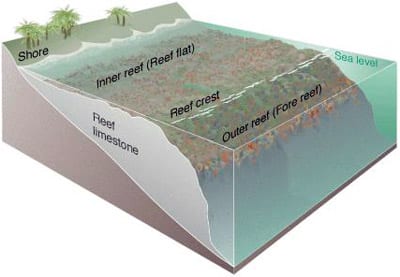 It follows then that the comparative extent and development of each of these three primary zones often varies considerably at different geographic locations and even within different parts of single reef systems.
In some places, one zone may abruptly transition to another, while in other places such transitions are more gradual. At some locations an entire zone may be poorly developed or entirely missing.
Each zone differs from the others in terms of numerous factors that have profound effects upon the distribution and abundance of hard corals and other types of marine life. Thus, each represents a distinctive habitat type for reef life, and each houses a somewhat different assemblage of plant and animal species.
Even so, many species occupy more than a single zone, and highly mobile species such as reef fishes often move freely between zones.
From high altitude photographs (see photo, above), only the extensive back reef (lagoon) and reef crest zones are clearly visible; the rapidly deepening fore reef zone is usually difficult to discern.
Many reef scientists routinely further subdivide the three primary coral reef zones into a number of sub-zones. This is useful in certain ecological contexts, particularly in terms of describing the often uneven distribution or abundance patterns of corals and other types of marine life within a primary zone.
Classifying Coral Reef Zones
The coral reef zonation scheme outlined above is consistent with that provided by many early coral reef researchers, as well as that described by a distinguished team of reef scientists assembled by the Smithsonian Institution who conducted a comprehensive, multi-disciplinary study of the Belize Barrier Reef System in 1982.
However, it must be understood that there is by no means universal agreement among all reef scientists regarding the classification of coral reef zonation patterns or even the names given to different zones and sub-zones.
For example, the definition of the back reef provided on our website is consistent with that provided by many authoritative sources (e.g., Allaby 2004), but very different from the usage of the term explicitly defined in the coral reef zonation diagram posted on the "What Are Coral Reefs" page of NOAA's Coral Reef Information System (CoRIS) website.
To a large degree, such problems are due to systematic differences in the structure of coral reef environments between Indo-Pacific coral reefs and those of the Greater Caribbean region.
Scientists who have primarily studied coral reefs in one of these regions often find it more practical and descriptive to use a somewhat different reef zonation classification system and terminology than do their colleagues working in the other.
Such inconsistencies are an endless source of confusion and frustration for professional scientists as well as the general public.
Macro-Structure of the Reef Biome
At the largest physical scale, the general structure of a coral reef biome is determined by the type of coral reef involved.
Atolls, fringing reefs, and barrier reefs each have somewhat different structural characteristics that often strongly affect the composition and extent of the major reef zones described above.
Biological Community Of The Reef Biome
Coral reefs are home to the greatest diversity of marine life of any ocean biome. In the richest of all regions of coral reef development (central Indo-Pacific), a single coral reef system may harbor hundreds of species of marine algae, and thousands of fish and invertebrate animal species.
The diversity of marine lfe that comprises the coral reef biome is discussed on our website pages dealing with coral reef plants and coral reef animals.
Our page on the coral reef food web provides a discussion of the movement of energy and materials through the biological community inhabiting the coral reef biome.
Return To Coral Reef Home Page